Региональный журнал для деловых кругов Дальнего Востока

Понедельник

|

21 Сентября, 13:15

|

Курсы валют
1 USD
75.03 р.
1 EUR
88.96 р.
100 JPY
71.75 р.
10 CNY
11.1 р.

Тема номера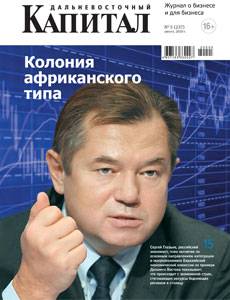 Catalyst for economic growth
Reconstruction of the Vladivostok Airport was one of the key projects completed ahead of the APEC summit. The CEO of Vladivostok International Airport (VIA) Maxim CHETVERIKOV believes it will give a powerful impetus to the company's growth.
Maxim Chetverikov spoke with Far Eastern Capital in an interview.
"Maxim Gennadievich, the airport upgrade is complete. Can you tell us about the result: what new facilities did the airport add using the multi-million dollar expenditures?"
"It took us nearly three years to overhaul the infrastructure, change our strategy, and develop new lines of business. The objective is to create an air transportation hub in Vladivostok focused on developing international routes connecting the Russian Far East and Asia Pacific/Pacific Rim.
"Airport reconstruction involved upgrading the airfield infrastructure and building a new passenger terminal. Paved runway №1 opened for takeoffs and landings on April 15, 2011. The runway is certified for all types of aircraft without restrictions. Materials and technologies complying with international standards were used in construction of the runway, including runway lights, an airport weather station, and navigation facilities. The new runway is certified as ICAO Category II.
"Vladivostok Airfield (Knevichi) was previously certified for air service without a specific category with a meteorological minimum of 70 x 900 meters. The new runway has improved these numbers to 30 x 350 meters, which means aircraft can land even when visibility is extremely limited. The upgrade included changes to aprons and the taxi surfacing; a new network of taxiways was built (the main taxiway was extended to 3,500 meters); new aprons have been added, as well as an emergency rescue station, etc.
"The new passenger terminal opened for regular scheduled service on July 23, 2012. The new terminal offers the "C" comfort level under the IATA classification for terminal design (Airport Terminal Reference Manual 8th Edition, April 1995, IATA).
"The new terminal has a total area of 47,500 square meters, and the area in front of the terminal is 40,000 square meters. The terminal is connected to the new AeroExpress train station and can handle 1,360 passengers an hour, which translates to 3.5 million passengers per annum, and it can handle international and domestic traffic simultaneously at a 30:70 ratio. The terminal's three levels include lounges, transfer areas, extra-comfort areas, first-aid stations, airline offices and desks.
"Sheremetyevo International Airport JSC was the core investor in the project (the Moscow operator holds a 52.16% equity stake in Vladivostok International Airport JSC and 74.99% in privately held Vladivostok Terminal CJSC), with VEB as co-investor. The project cost was RUB 6.3 billion."
"What innovative solutions did you implement while working on the project?"
"Materials, technologies and equipment meeting international standards were used in construction, providing state-of-the-art security, check-in and automatic baggage sorting systems. The baggage system has capacity of 2,700 baggage units an hour. The terminal has four galleries, four telescoping jetways, escalators (including the longest escalator in the RFE), all designed to enhance passenger comfort.
"As an important innovative principle, the terminal space uses energy-saving technologies and solutions designed to preserve solar energy."
"How would you assess the significance of this project for regional development and improving transportation access to the RFE?"
"VIA's marketing strategy targets attracting Russian and international carriers to routes connecting to Siberian and RFE cities with Asia Pacific/Pacific Rim airports via Vladivostok. Development of VIA should bring significant benefits for the regional society and economy, including benefits through greater competition on the international air transportation market, which should help reduce the cost of air transportation. This should serve to boost destination and transit passenger traffic, speed up the development of the destination network, and make air travel more affordable for passengers.
"I have no doubt that VIA's development as a major regional and international airport will catalyze growth of the Primorsky Region and Vladivostok's economy, thereby increasing the mobility of the regional population, boosting infrastructure development and creating jobs, while enhancing the overall standard of living."
"Maxim Gennadievich, last year the Russian Transportation Ministry lifted restrictions on international flights to Vladivostok. You commented that the Open Skies project would require additional steps and approvals before becoming fully operational. Have you seen progress?"
"Yes, I have. One recent event associated with the Open Skies project was the signing of a Memorandum of Understanding on May 10-11, 2012 between the aviation authorities of Russia and South Korea. The parties removed all restrictions under the Third and Fourth Freedoms of the Air for airlines of both nations for travel between Vladivostok and South Korea, including restrictions on the number of carriers and flight frequency. Delegations have discussed offering the Fifth Freedom of the Air to Russian Carriers on Russia-North America flights via South Korea.
"Now that the Russian and South Korean aviation authorities have signed the MoU, we expect efforts to begin to implement the opportunities arising from the Third and Fourth Freedoms of the Air. This would include increased frequency of flights to South Korea, removal of all restrictions on charter flights to Cheju and Yahgyan, which would have been impossible earlier, as well as upgrading the class of aircraft used for Korean destinations. We have received inquiries from airlines about whether VIA could accommodate А330 and Boeing 747 aircraft.
"We are making similar efforts in our discussions with Japanese, Chinese, and other Pacific Rim carriers. We try not only to add new destinations, but also to bring in transit and transfer technologies, to make Southeast Asian destinations accessible for residents of other Siberian and RFE cities.
"We expect to see the results of these efforts by the end of this year. Open Skies projects take time to pay off, and decisions to lift restrictions are made at the national level. After that, time is needed to organize and schedule new flights: carriers require research for new destinations, the competitive landscape, evaluate airports' capabilities, etc. We see 2012 as a year of transition for Open Skies projects at the VIA and are working to develop and add new destinations."
"What's the news for summer? What passenger categories will the new destinations serve?"
"Our focus this summer is on increasing the frequency of international and domestic flights. The Vladivostok-Hong flight, introduced last year, is now available four times a week, with S7 Airline adding one weekly flight. S7 has also introduced twice-a-week Vladivostok - Tokyo (Narita) flights.
"There are 12 scheduled weekly flights to Seoul, as Korean Air continues daily service, and Vladivostok Air (controlled by Aeroflot) offers another five flights a week. S7 and Vladivostok Air operate seven weekly flights to Beijing, and flights are available to Harbin, Busan, Dalian, Pyongyang and Tashkent.
"As for regional and inter-regional flights, we see increased frequency of flights to Khabarovsk, Yuzhno-Sakhalinsk, Petropavlovsk-Kamchatsky, Yakutsk and Novosibirsk.
"Since July 25, Transaero has been offering twice-daily flights to Moscow. In September, UTAir is expected to introduce Vladivostok-Moscow flights, offering daily service on Boeing 767 aircraft. After UTAir enters this market, the number of daily Moscow-bound flights would increase to six.
"As for the breakdown of passenger traffic by category, research has shown that approximately 60% of all passengers are vacationers, with around 30% travelling for business."
"Are you going to have any use for the old terminal complex?"
"We intend to sell or lease the old terminal buildings under long-term agreements for possible conversion projects: entertainment centers, shopping mall, and so on. Given the government's mandate to create trade show infrastructure under public-private partnerships, we have drafted a letter to the Primorsky Regional governor proposing to use the old terminal as the home for a new investment project to create a Primorsky International Business and Trade Show Center. We are open for cooperation and ready to consider all ideas."
Irina SERGEEVA.
Теги:
---
Loading...
---
---
26 Июня 2020, 10:30
Нефтехимия: в расчете на АТР
В Приморье реализуются проекты переработки